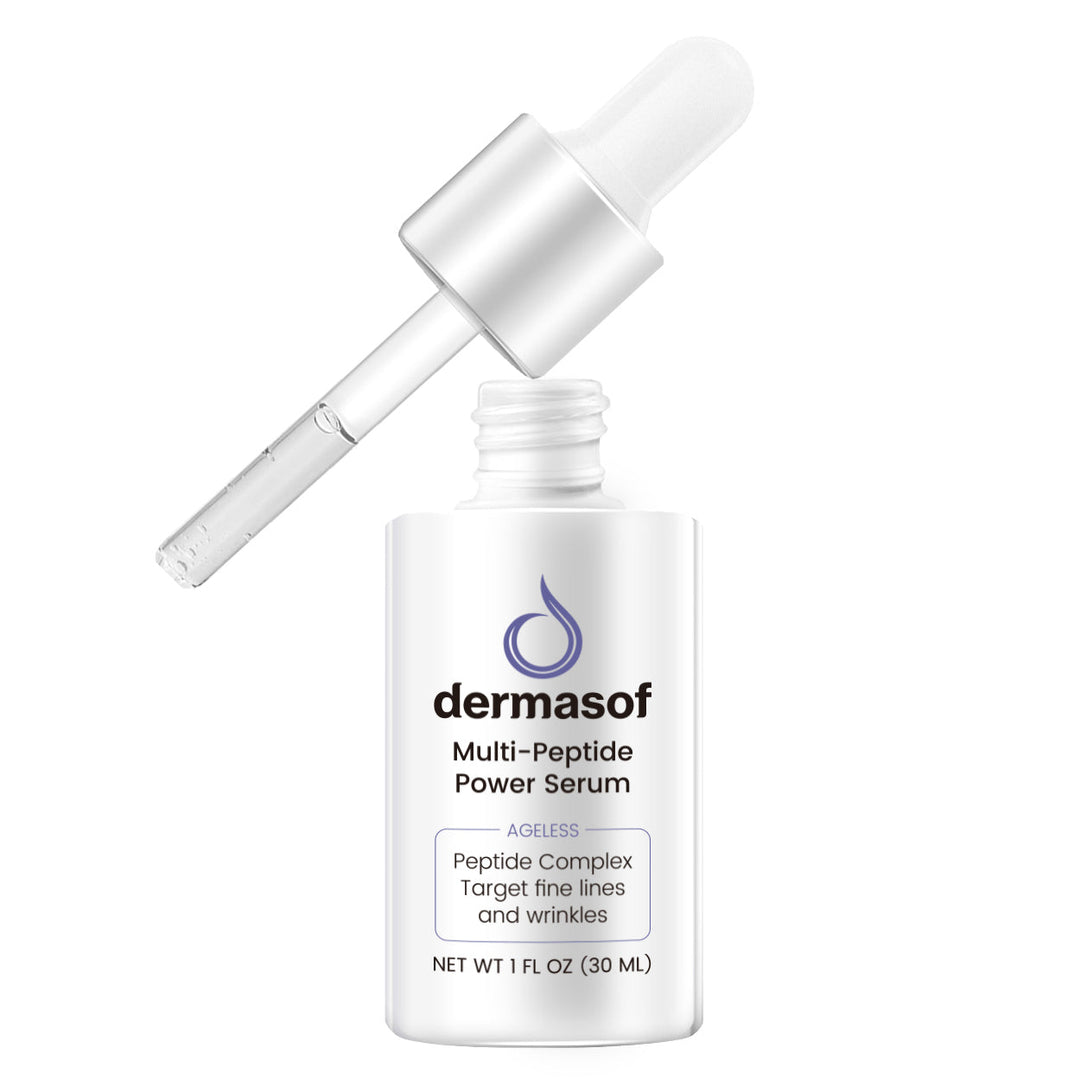 Dermasof Multi-Peptide Power Serum
DCMP-30
---
This Dermatologist-Tested powerful Multi-Peptide blend formula helps your skin fight the visible signs of aging while maintaining a healthy, youthful appearance.
Suitable for all skin types.
SIZE: 1 oz / 30 ml
---

HOW TO USE

DIRECTIONS: Use daily morning and night, place in palm of hand and use fingertips to apply to face, neck and décolletage.
CAUTIONS: For external use only. Discontinue use if irritation or rash occurs. Keep out of reach of children.


---
ACTIVE INGREDIENTS
Acetyl Hexapeptide-8: A unique anti-wrinkle peptide that is a topical alternative to Botulinum Toxin A, and is effective in reducing the appearance of expression wrinkles. 
Acetyl Heptapeptide-4: Intends to strengthen vulnerable urban skin, by promoting microbiota balance diversity and an increase in beneficial bacteria, associated with a healthier skin in higher contact with nature. And it helps reinforce the double cutaneous barrier function and prevent dehydration.
Matrixyl®3000: Work synergistically to restore and maintain the skin's youthful appearance by signaling to cells to produce more collagen. Numerous studies have proven the anti-aging and anti-wrinkle efficacy of Matrixyl 3000.
Acetyl Octapeptide-3: An elongation of ARGIRELINE® peptide, therefore it reduces expression wrinkles topically with an alternative mechanism to botulinum toxin, decrease neuronal excitability by SNARE complex destabilization.
Copper Tripeptide-1: Helps to improve skin laxity, clarity and appearance, reduce fine lines, coarse wrinkles and mottled hyperpigmentation and increase skin density and thickness.
Nonapeptide-1: Helps to reduce signs of aging and awaken radiance of the skin complexion.
Tripeptide-10 Citrulline: Provides an efficient treatment to restore the collagen levels of both young and mature skin, and maintains an adequate long-lasting collagen function that will ensure a healthy and youthful skin.
Glycine Soja (Soybean) Seed Extract:A powerful antioxidant and anti-inflammatory agent for the skin. Glycine soja (soybean) seed extract has vitamin E, allowing it to protect the skin from free radial damage and reduce the effects associated with the aging process such as wrinkles and fine lines. Dermasof uses this natural ingredient complex as a powerful combination of peptide penetration enhancers.
4D HA: The molecular sponge for water-replenishing and water retention, can provide instantly three-dimensional moisturizing efficacy, and keep skin hydrated continuously while improving skin moisture enhancement from inside and making skin smooth and elastic.